Past participant provides insight into what makes for a successful dialogue program
Earlier this month, we received a special message from one of our 2011 program participants, Iftach Shapira. We are delighted that he has agreed to let us share it with you.
Iftach (pictured right) assists fellow 2011
program participants in a trust exercise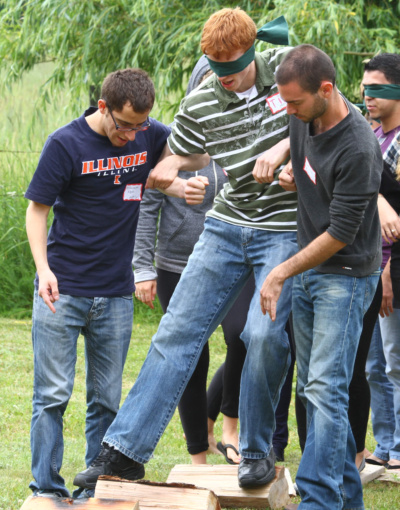 Iftach's messages reads:
"While thinking about the time I've had in Canada, as I do quite often, I suddenly felt a need to thank you. The Peace it Together project was, in one word, magical. It was a unique and exciting experience, which I doubt I will forget.
Peace it Together was the starting point for me as an activist. Since then, I've gotten more and more involved in activities that are related to the conflict.
Two months ago I went to Germany to participate in a project called "Vacation from War." I studied facilitation and it was great. Last year I took part in a dialogue group between Arab and Jewish students in Tel Aviv University, run by an Arab-Jewish organization called Sadaqa-Reut. Today I got accepted to their facilitation program that will take place next year. With hindsight, choosing to participate in Peace it Together was a decision of great importance.
When I think about Peace it Together 2011, I think about the great people I've met, the great friendships I've made, the food, the landscapes, the incredible facilitation and organization, and that unique and strong feeling that the people who run the project care A LOT about the participants.
I thank you [Executive Director Reena Lazar] and everyone else in the organization.
Yashar koach (loosely translated to 'Keep up the good work'). "
After receiving this message, we reached out to Iftach – first, to thank him for his kind words, and second, to ask him a few more questions about his journey since Peace it Together 2011, and what he thinks makes for a successful dialogue program.
Iftach cited how influential the environment and overall atmosphere of a program is in fostering peace-building, saying the high level of organization throughout the Peace it Together program, as well as the comfortable conditions in which they took place, cannot be understated.
"[The atmosphere of the program] made us, I think, somewhat grateful and more willing to cooperate… In short, I learned, by this positive experience, that the conditions of the dialogue are very crucial to its success."
Moreover, Iftach pointed to the preparedness and skill-level of the facilitators as being crucial to fostering effective dialogue amongst Israelis and Palestinians, and, in the case of Peace it Together, with Canadians as well. Iftach said he appreciated "the sensitivity and calmness" of the facilitators, mentors, and organizers of Peace it Together's 2011 program. Despite the positive influence facilitators had on Iftach during his experience with Peace it Together, he says he did not immediately envision becoming one himself.
"Only later," he says, "as I participated in another groups, did I become more and more interested in group dynamics and social psychology. At the same time I became more interested in the conflict itself, and in Palestinian culture, society and language."
Iftach credits his experience at Peace it Together as the catalyst for this journey.
"Peace it Together was my first step, and a step of great significance."
Iftach will serve as a facilitator for Sadaqa-Reut once he has received his training there. He hopes his experience in this role will help him further explore his own identity and role in the Israeli-Palestinian conflict, and better understand the perspectives of Palestinians.
"Mainly, I hope to bring Israelis and Palestinians closer," he said.
* * *
Learn more about the Vacation from War program.
Learn more about Sadaqa-Reut, and its facilitator training program.