Towards critical peace building in Israel and Palestine

"One thing is clear: we need to be critical and we need to be conscious."
Such was the conclusion one night in February when a group of Palestinian and Israeli peace builders gathered in Vancouver to discuss their unique paths and approaches to peace building, and their perspectives on joint peace programs. The four featured speakers,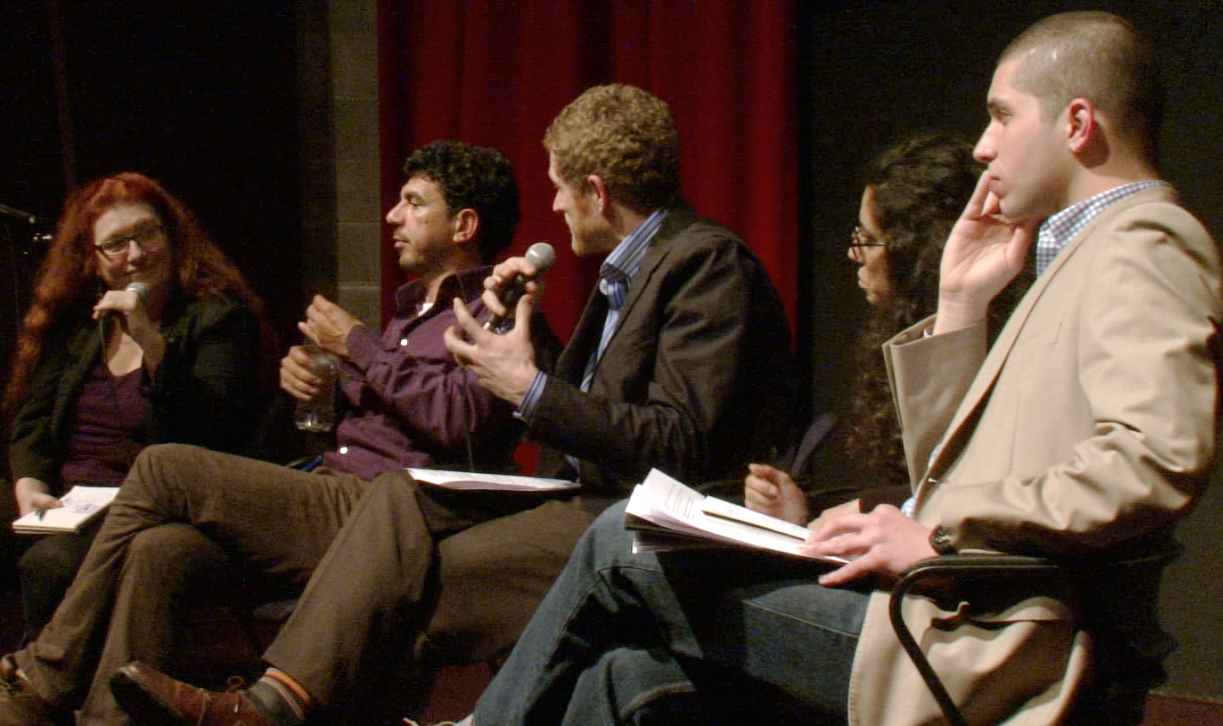 Sulaiman Khatib, co-founder of Combatants for Peace and the People's Fund;

Rutie Atsmon, co-founder and director of Windows: Channels for Communication;

Mahmoud Jabari, student, journalist and Peace it Together participant; and

Yael Tsabari, program

co-coordinator with Sadaka Reut,
From left: Rutie Atsmon, Sulaiman Khatib, Aaron Lyons, Yael Tsabari and Mahmoud Jabari,
during A Critical Junction: New directions in peace building
delved into joint programs between Israelis and Palestinians. Their frank and compelling conversation covered a range of issues, including the shortcomings and successes of people-to-people peace building programs, and how those who organize these activities can do so in a way that truly makes a difference on the ground.
The conversation included critical reflections on normalization: definitions, interpretations and the evaluations. There was a consensus that, yes, sometimes peace programs do normalize the status quo and the occupation (or even make relations worse). Each panelist went on to outline what kinds of programs shift – rather than normalize – inequitable and conflictual relationships between Palestinians and Israelis. After two-and-a-half hours of thoughtful dialogue, moderator Aaron Lyons made the remark that bears repeating: "One thing is clear: we need to be critical and we need to be conscious."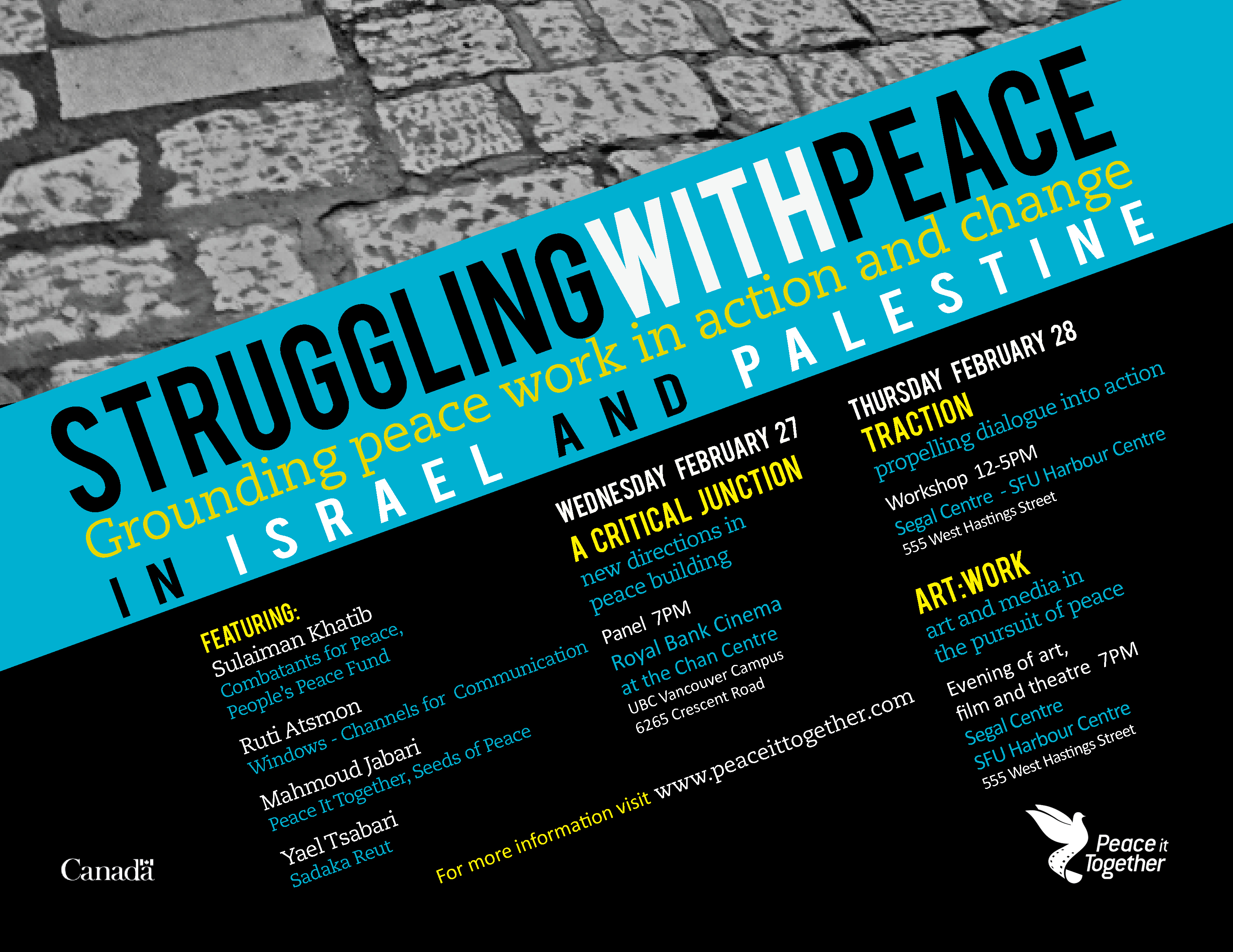 With these words Lyons effectively captured
the sentiment that underscored not only this
particular panel, but the larger two-day
symposium of which is was a part. From February 27-28 2013, during Struggling with Peace: Grounding peace work in action and change, critical
and conscious peace building was paramount
to all four of the featured speakers.
These experts were well received by the symposium attendees, an audience of several hundred collectively searching for possibilities for peace in Palestine and Israel. While some audience members had clear and firm views on the conflict, most arrived at this event with complex, even conflicted positions on peace; many were in favour of peace building efforts, but committed to learning more about how to bring Palestinians and Israelis together in a way that does not 'normalize' the status quo. In many ways these individuals bridge an increasingly vast gap between those who think dialogue is essential, and those who think it is ineffectual or even part of the problem. In short, many came to this symposium struggling with peace.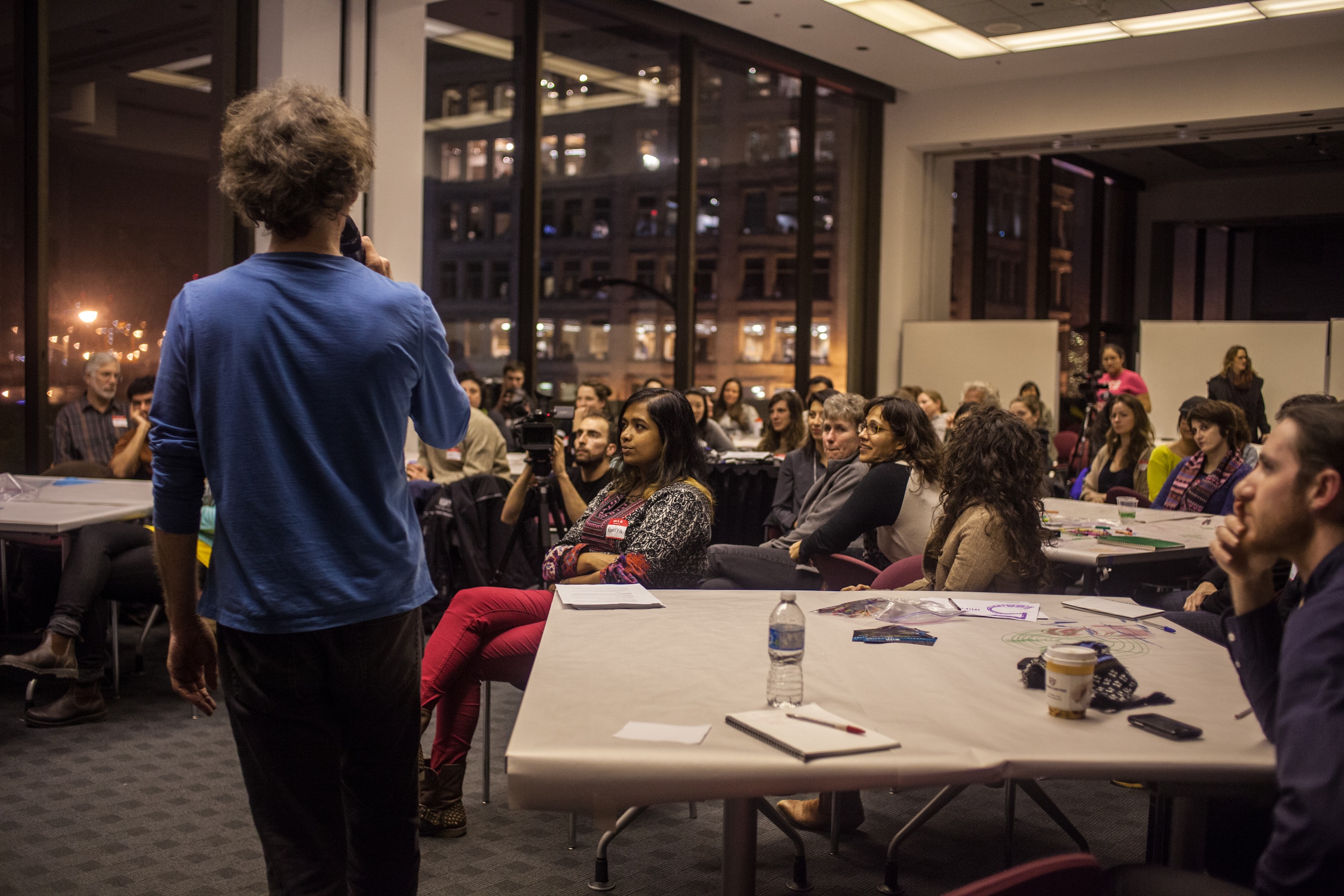 This symposium was not intended to 'solve' the very important questions facing peace-building practitioners working within the context of the Israeli-Palestinian conflict, nor was it an 'anti-anti-normalization' event. Rather, it was meant to create safe and reflexive spaces to explore these issues seriously and creatively, and provide guidance to organizations like ours, who aim to offer programs that are meaningful, impactful, ethical and worthwhile.
Vancouver Playback Theatre conductor Jesai Burnett addresses audience members

at ART:WORK, an evening of art and media in pursuit of peace
Peace it Together has already begun to translate the common themes that emerged during this symposium into priorities that will guide our organization and our programming going forward. We hope that these posts will help us to further engage with other peace-building practitioners, participants, supporters, critics, and allies in even deeper conversations about implementing more ethical and effective programs.
As we all continue to explore these issues, we hope that the content of this symposium (and the blogs to follow) serve as an accessible entry point into very important conversations about peace building in Israel and Palestine, and elsewhere ....conversations we intend on being a part of for a long time to come.
____________________________________________________________________________
For more information about the Struggling with Peace symposium, go to our Events page.
_______________________________________________________________________________________
Were you at Struggling with Peace?
What did you think about what you heard?
Are you a part of an organization that brings Israelis and Palestinians (or other groups in conflict)
together for peace-building activities?
What do you think about what was said at this symposium?
How do you structure your programs in the most ethical and impactful way?